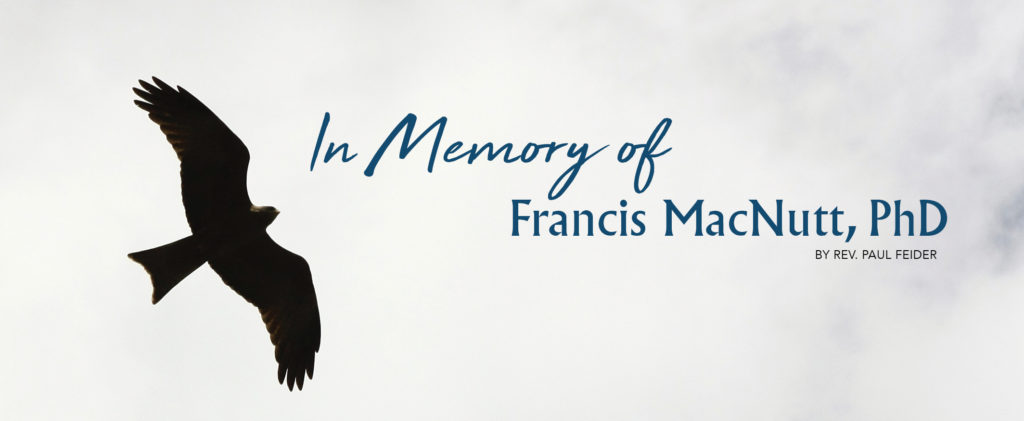 By Rev. Paul Feider
There was a very spiritual, peace-filled man who had a mission to restore the healing ministry of Jesus to the churches and to the world.  That man was Dr. Francis MacNutt. He passed away on January 12, but his legacy lives on. Francis was born in St. Louis in 1925, graduated from Harvard and went to Catholic University to get a Master of Fine Arts (speech and drama). He had a deep love and reverence for the church, and while at Catholic University, he felt a call to the priesthood. In 1956, he was ordained a priest in the Dominican Order and later earned his Ph.D. from Aquinas Institute of Theology.
In 1967 his life took a dramatic turn when he was baptized in the Holy Spirit at a Charismatic Renewal retreat. He felt a new power from the Holy Spirit and began praying with people for healing. Many were healed or noticeably improved. He realized that this was an important part of Jesus' ministry and commonplace in the early church, but it had become overlooked or ignored in the modern church. From then on Francis' entire ministry was dedicated to bringing healing prayer back to its rightful place among Christians. He was passionate and persistent in carrying out this mission.
Francis traveled the world teaching about healing prayer and the power of the Holy Spirit in transforming lives. He first met Judith Sewell while speaking in Jerusalem. Their paths crossed several times. He married Judith in 1980, and together they established the Christian Healing Ministries (CHM) in Clearwater, Florida. The offices were moved to Jacksonville in 1987, where Christian Healing Ministries continues to train prayer ministers.
Francis authored several books including Healing, The Power to Heal and The Prayer that Heals. Together with Judith, they co-authored Praying for Your Unborn Child. His last book, The Healing Reawakening, gives an excellent description of the healing ministry throughout Christianity and encourages people to join in restoring it to a central place in the life of the church.
Even before they were married, Francis and Judith were members of OSL, since it pursued the same vision for healing that burned in their hearts. They spoke at large OSL conferences and wrote articles for Sharing Magazine. Francis loved OSL and spoke about it publicly. His theology of healing and practice of healing influenced, to a large extent, the theology and practice of healing taught by OSL. He was especially excited about the recent decision to have CHM and OSL more connected, with OSL members using the DVDs from CHM's School of Healing Prayer and CHM alumni welcomed to share in OSL healing communities around the country.
Francis' influence in Christian healing has gone around the world touching the lives of hundreds of thousands of people. Judith and the people of CHM will carry on his legacy with their continued training. OSL shares the same mission that directed Francis' life, namely, to empower God's people with the Jesus' healing ministry. We in OSL stand with CHM in carrying on this legacy, proclaiming with passion and persistence the healing power of the Holy Spirit.
I, personally, was greatly influenced by Francis. I used his book, Healing, as a significant resource in writing my thesis on healing. In 1975 at a huge conference in Rome, I watched Francis teach 40,000 people about healing and then lead them in singing in tongues. I heard him speak of his passion for bringing the healing ministry to doctors and nurses and into hospitals and clinics, a passion which inspired his founding of the Association of Christian Therapists, called ACT Heals. They will carry on this part of his vision. I was there in September of 2001 in Dallas, when he gathered leaders in the healing ministry from all across the country and of all denominations, to inspire them and draw them into unity with the same mission of bringing the healing ministry of Jesus back to the churches. I was inspired by his passion and his gentle spirit. Francis was not only a great mentor but he also my friend. I was at his house this past June when he quietly prayed for me as president of the OSL Board and passed on the fire for the mission to OSL and me.
Francis deserves to rest in the Peace of Jesus. He "fought the good fight, he finished the race." We have been touched by his life and teachings. We have been empowered by the Holy Spirit and so we can do nothing less than proclaim with fire the healing and saving message of Jesus Christ.